About Us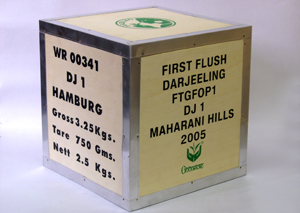 Founded in the year 1980, Calcutta Packaging Industry is engaged in offering a high quality assortment of packaging products to fit the demands of our clients from various sects for the applicability of our entire product range. With Sole Proprietorship of Mr. Kalyan Guha, our company is executing its all leading affairs related to business with its headquarters located at Kolkata, West Bengal (India). We specialize in the domain of manufacture, supply and export of Mini Chest Box, Tea Chestlet, Pinewood Box, Plywood Box, Wooden Jewellery Box, Polished Wooden Box, Wooden Gift Tray, Chocolate and Dry Fruit Box, Wooden Mobile Stand, and many more in the list. Our products, being supreme in quality, are in huge demand amongst our esteemed clientele all across the globe as we offer them at competitive price ranges. Our rich market reputation, sound financial position and TQM in addition to our customized solutions to clients' specific demands devises us of other stereotyped. We have introduced a flexible transaction terminal for our clients to make payment easily. We export our products in Asian Countries, UK and Germany.
Ms. Sayani Ghosh, Daughter of Mr. Kalyan Guha looks after the marketing and corporate communication in the company. Having the old business practices and stringencies, hence further, she tries to engage in the business with the blinked off her own school of thought.
Without work forces, an organization is just like an empty bottle of water. As potential of any organization lies in its manpower, we are highly supported by a favorable workforce. They give their best efforts to effectuate our working ability and production capabilities. Our team are highly energetic and dynamic and nature, thus they easily new changes in the working atmosphere and assures clients of the specific solutions to their requirement in committed time frame.
Relying on our rich industrial expertise, we have developed a supreme quality product range for our customers. Customers always prefer us as we proffer them with customized solutions to their needs. Our thrifty prices, ethical business policies, rich customer base, quick shipment and premium packaging are some reason to reckon on us. We are capable to purvey heavy demanded in lesser as we are backed by a modern infrastructure. Our manpower competency and dedication to serve client pleasingly has enabled us create a place in their hearts.
Company Profile
Basic Information
Nature of Business
Manufacturer
Additional Business
Exporter
Supplier
Company CEO
Mr. Kalyan Guha
Year of Establishment
1980
Ownership Type
Sole Proprietorship (Individual)
Total Number of Employees
25 people
Trade & Market
Export Percentage
20-40%
Company USP
Primary Competitive Advantage
Superior Quality Standard
Large Product Line
Quality Assurance
Provide Customized Solutions
Large Production Capacity
Timely Delivery
Statutory Profile
PAN No.
AFZPG0519C
TAN No.
CALK05723E
DGFT/IE Code
0203002474
Packaging/Payment and Shipment Details
Payment Mode
Cheque
RTGS
Shipment Mode
By Road
By Cargo
By Sea
By Air
Our Team
To assist us in accomplishing to the emanating supplications of the market, we have hired a number of diligent employees who possess sharpened skills in their concerned domains. They constitutively make efforts so as to achieve set targets of the company and works relentlessly in the confined direction. With our team's relentlessness and limitless support, we have acquired an enviable position in the industry.
Our Clientele
Accord India International Pvt. Ltd.
Al Maha Foods International Pvt. Ltd.
Apeejay Tea Group
Apurva Organics Ltd.
Assam Company Limited
A.Tosh & Sons India Ltd.
Biswa Bangla
Chamong Tee Exports Pvt. Ltd.
Chatterjee Surgicals
Darjeeling Impex Ltd.
Darshan Lal Anand Prakash & Sons Pvt. Ltd.
Evergreen Tea
Godfrey Philips India
Gopaldhara & Rohini Tea Estate
Goodricke Group Ltd.
Harrisons Malayalam Ltd.
Hindustan Unilever
Jay Shree Tea & Industries Ltd.
Luxmi Tea
Manjushree Plantations Ltd.
Mission Hills Tea
New llam Tea Industries, Kathmandu, Nepal
Newby India Pvt. Ltd.
New Tea Exports
Parkwood Farms Pvt. Ltd.
Raghunath Exports Pvt. Ltd.
Saharia Group of Industries and Plantations.
Sourenee Tea
Spencers
Tambross India Pvt. Ltd.
The North-Western Cachar Tea Company Ltd.
Tea Group Exports
Tea Promoters India Pvt. Ltd.
The United Nilgiri Tea Estates Company Ltd.
T'' Classic (Darjeeling) Pvt. Ltd.
Teamark Exports
Twinings Pvt. Ltd.
Temi Tea
Uttaranchal Tea Co. Pvt. Ltd.
Uttarakhand Tea Development Board
Warren Tea Ltd. and many more
Our Infrastructure
We are abundantly supported by an advanced infrastructure that is spread over a large piece of land. Our physical premises, we have a number of new and ultramodern machines that supports us in the streamlined execution of our business activities. Here, activities like production, packaging, quality processing and several others related to business takes place. Our infrastructural set up is contemporary enough to suffice the bulging supplication of the market with ease.
Quality Assurance
As being a quality consistent organization, we strive harder to comprehend the same in our entire product gamut. We procure requisite materials from highly authenticated vendor base of the market that are technically sound and knowledgeably profound with time. We also time to time conduct surprise checks over our manufacturing and quality processing units so as to keep an eye of administration over the same.